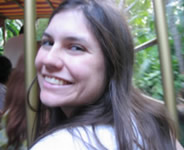 Adrianna Marie Bayer Simone
Welcome to my Humboldt State University website. You can browse the academic pages I have created by clicking on the class work tab. The professional tab includes examples of my teaching materials including syllabi and lesson plans. If you have questions or comments, please e-mail me at the address below.
Useful Links
Research Interests
Feminist or postcolonial critical theories, especially as they concern world literatures from countries in Africa, the Caribbean, Latin America, and India. Other interests include Cultural Studies and Interdisciplinary teaching methods.
Education History
MA (English w. emphasis Literature), California State University, Humboldt, Arcata, CA, 2007
BA (English w. emphasis Creative Writing, Minor in Women and Gender Studies), Dominican University of California, San Rafael, CA, 2005
BA (History w. emphasis Latin American and 16th century Britain), Dominican University of California, San Rafael, CA, 2005
Contact Information
e-mail: